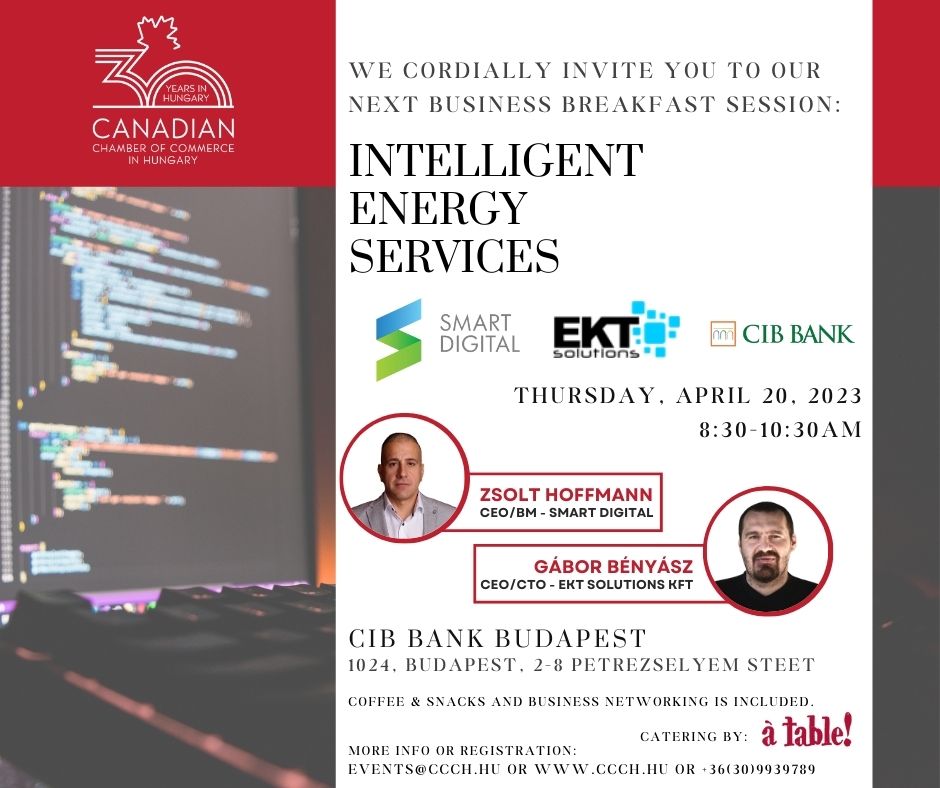 Due to technical reasons the event has been cancelled.
The Canadian Chamber of Commerce in Hungary is inviting all members and non-members to their next Business Breakfast session on 20 April from 8:30-10:30am, which will take place in the CIB Bank building (2-8 Petrezselyem Street, 1024 Budapest).
Many companies are currently facing challenges with sudden spikes and high volatility in energy costs due to hasty transitions towards green energy and geopolitical impacts. In this turbulent economic environment, how can innovative "Intelligent Energy Services" solutions help control and predict energy costs?
While a few years ago, optimizing energy usage was only a part of a company's medium to long-term strategy due to low and predictable energy prices, today, extremely high energy costs can significantly impact profits, eroding ROI for energy-related investments. What IT solutions can assist in implementing energy cost-saving measures quickly and cost-effectively while maintaining an optimal investment level?
The presentation will be held by Zsolt Hoffmann (CEO/BMD, Smart Digital) and Gábor Bényász (CEO/CTO, EKT Solutions Kft.).
Coffee & breakfast by a table and business networking is included.
Register now to save your spot or get to know more at events@ccch.hu or +36(30)993 9789!